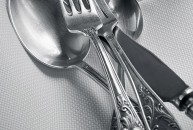 More often than not, when the term "silverware" comes up in conversation, people don't actually think of the precious metal, but rather they refer to the fancier dining sets, reserved mainly for company. However, did you know that several decades ago, people used to employ silver table sets because of their antimicrobial properties? Since sterilizing equipment wasn't a widespread practice, and warm water and soap were rather scarce in those days, owning silver tableware was actually the safest way to keep cooking utensils free of bacteria in between meals.
What is the current value of silver flatware?
While a vintage silver flatware that has been in your family for generations can go rather fast and for a pretty penny, selling new silverware can sometimes bring disappointing profits. The following are the criteria that determine the price of silver flatware:
Condition – for obvious reasons, the silverware that is still in its original packaging will be worth a lot more than used flatware
Monograms – silver tableware with no monograms usually go for a higher price compared to their monogrammed counterparts. While patterns could also increase the value of the silverware, it mostly depends on the popularity of that pattern
Set size – because they contain more pieces and are larger, continental silverware sets are worth more than luncheon or family dining sets
Availability – the value of your silverware is also determined by its scarcity; if the tableware is still being manufactured, then it will be worth less than series that have been discontinued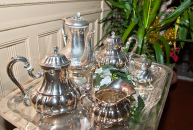 We advise all our customers to do some background research on their flatware collection before deciding to sell it, especially when it has been passed on from generation to generation in their family. Perhaps you will discover that you are the proud owner of a unique set of tableware that was created by hand, one piece at a time and in a limited edition.
SILVER
Best Prices Paid for Silver!
Call for a Quote today
Why sell silverware?
In the eventuality that your silverware is just sitting there gathering dust and you need quick cash to deal with an emergency, pay off your bills, go on a vacation, or start a new business, then putting it up for sale could get you the money you need to reach your goal.
Silverware we buy
CE Coins Exchange accepts tableware made of silver or that incorporate the precious metal. Irrespective of whether you want to sell your entire silverware set or just parts of it, bring it to us and we will make you a cash offer on the spot. We are interested in buying:
Knives
Forks
Spoons
Teaspoons
Butter spreaders
Gravy ladles
Sugar spoons
Pie servers
Sugar shells
Tomato server
Cheese scoop