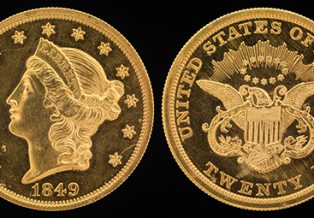 The Liberty Head Double Eagle is without a doubt one of America's most beautiful gold coins. They also have a reputation for being one of the most complex series of U.S. coins struck during the 19th and 20th centuries. As such, shopping for them requires knowledge, patience, a keen eye, and deep pockets.
Origins of The Liberty Head Double Eagle
This coin was first introduced in 1849 and was designed by James B. Longacre. It comes in three types, which are Type One, Two and Three. Type One was struck from 1849 until 1866 at the mints of San Francisco, New Orleans and Philadelphia. The reverse side of these coins doesn't feature a motto. Type Two was struck from 1866 until 1876 at the mints of Carson City, Philadelphia and San Francisco, and a motto is present on the reverse which says "TWENTY D."
Type Three Liberty Head Double Eagles were struck from 1877 until 1907 at the mints of Denver, New Orleans, Carson City and San Francisco, and have a valued which appears on the coin as "TWENTY DOLLARS." Of the three variants, Type One is the most sought after but is hard to collect due to its rarity. Some Type Two variants are also exceptionally rare.
How To Collect Them
When collecting these coins you will need to know the mintmark set and complete date. Bear in mind that many of the rarest Liberty Head Double Eagles won't be found in grades which exceed AU55 or AU58, and as such won't display the highest eye appeal. The sets from Carson City are tough to find due to their rarity combined with extremely high price, which in some cases can reach $250,000.
The set from the New Orleans mint is comprised of 13 issues total but many are also rare with the most sought after being the 1854-O or 1856-O which are extraordinarily expensive, and can go for $300,000. However, there are options for those who can't or don't want to spend this much money. The Liberty Head Double Eagle struck in certain years is far more affordable, such as this gold coin struck in 1888 at the San Francisco Mint, can be acquired for under $5,000.
The best approach for those who want to collect these coins is to include a coin from every one of the five mints that produced them. You can find standard double eagles issues from the Carson City Mint that ware in grade EF and which cost about $4,000 and a common date from the New Orleans Mint will cost about $5,000. It is best not to overdo it when it comes to dates ranging from the 1890s to 1900s; so many amateurs focus on the MS62 and MS63 coins. Above all else you should not go beneath EF40, stick to the AU coins. If you do it the right way, you can collect the Liberty Head Double Eagle without spending a fortune.
Read More